CIA offers a wide variety of Terex (Formerly Texoma/Reedrill) Rigs and auger tooling products to meet many of today's drilling needs in the utility and foundation markets. We supply the drilling industry with a complete line of augers, teeth and accessories for both dirt and hard rock applications. Our products are competitively priced and are produced from superior quality materials. All carbide teeth are produced to Reedrill Specs. by Kennametal Mfg. Custom built tools and components are available for specific requirements. Some of the most popular Auger products we handle are shown below. Many more are available. CIA will assist you in selecting the auger products to best suit your needs.
Bullet Tooth Augers
TX-50 Series Auger Teeth
2 3/8″ Pilot Bits & Pilot Subs
"TXD" Series Derrick Augers
"TXCS" Series Derrick Augers
"TXRA" Series Derrick Augers
"Step Type" Rock Augers
Blade Series Teeth & Pockets
"TRA" Series Derrick Augers
"TXC" Series Derrick Augers
"TRSH" Series Derrick Augers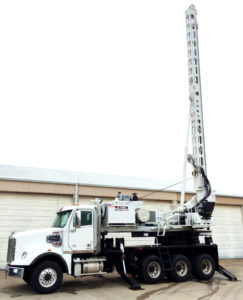 Terex drills offer a superior performance edge for increased efficiency and adaptability. A low center of gravity gives them exceptional stability. A high-speed hydraulic system and convenient operator controls provide the fastest cycle time. Terex drills meet the rugged demands of the electrical utility industry with compact, powerful drills. They provide the strength and versatility to handle distribution and transmission, line construction, and pole setting capabilities of up to 70′ (21.35 m).